100% electric

road transportation for the world
An audacious strategy
Drive Electric is the campaign to end the polluting tailpipe and
accelerate the global transition to a clean transportation future
, delivering massive benefits to the climate, health, and the economy.
Cars, trucks, and buses are fundamental to modern life, but the combustion engine is an outdated technology choking our air and atmosphere with pollution.
We advance smart government policies to drive electric vehicle (EV) supply and demand, directly impacting regional change and scaling strategies for rapid adoption. We engage business leaders to ensure adequate investment and drive ambitious commitments in EV procurement. And by supporting diverse people-powered coalitions, we mobilize communities to demand better health, jobs, and environmental justice.
Learn more about our strategy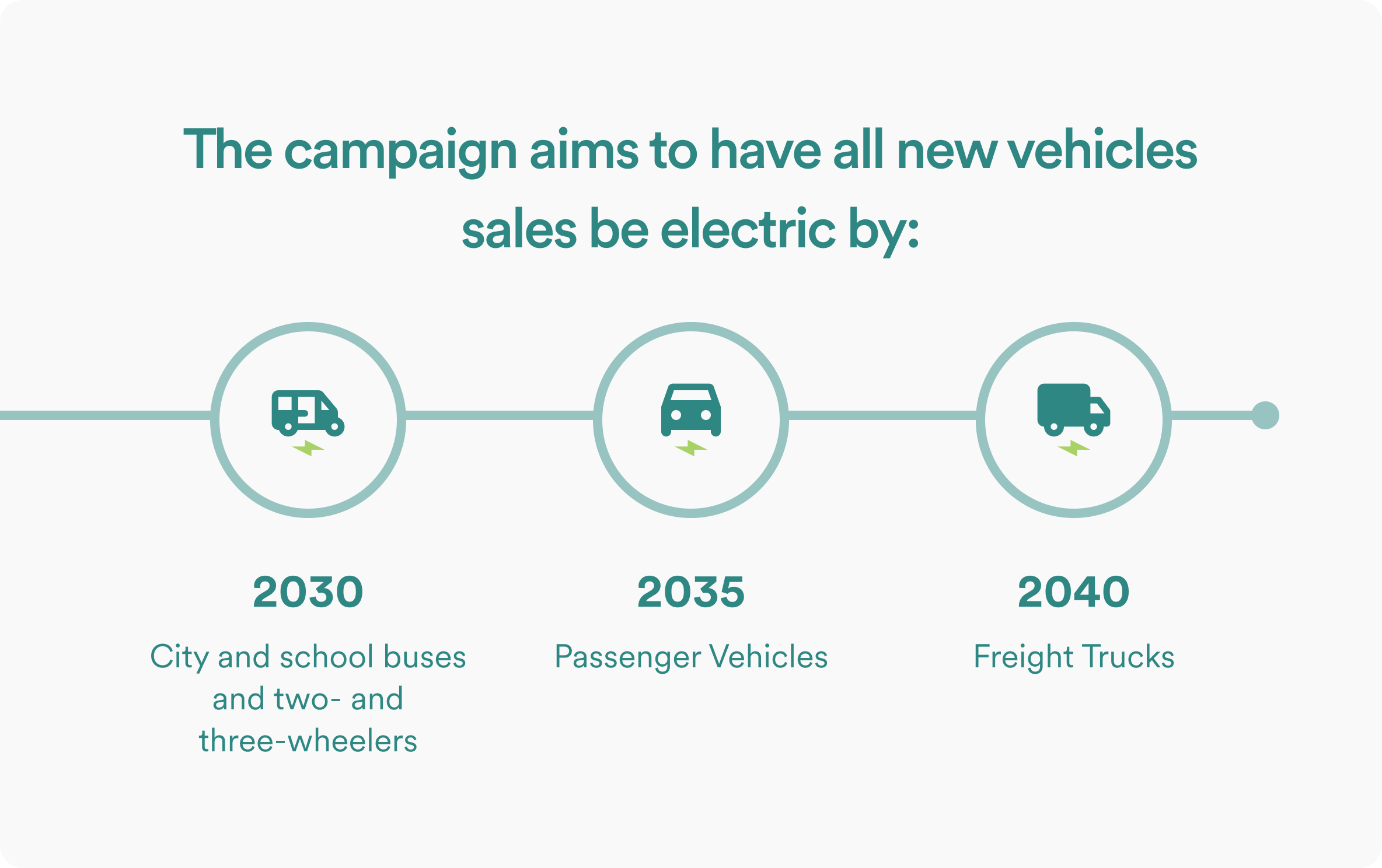 The race is on
0
Signatories committed to achieving 100% EVs
0
Significant policies since 2019
0

%
World transport committed to EVs
The next five years are a crucial window of opportunity to shift out of business as usual. Drive Electric partners are accelerating the transition to all electric vehicles for all types of road transportation, all around the world. We are tracking progress toward critical tipping points, building momentum in public and private sectors to reach 100% zero-emission road transportation by 2050.
Explore our impact
Driven to improve lives
Abating climate change
Electrifying all road transportation, powered by clean energy, provides one of the most powerful and globally scalable ways to achieve a safer climate. With Drive Electric, we can eliminate over 165 billion tons of carbon pollution, avoiding an estimated $6+ trillion in climate damages to cities, villages, and our planet's ecosystems.
Ensuring health and justice
Transforming road transportation will impact every breath we take. Drive Electric will end the polluting tailpipe, saving hundreds of thousands of lives and preventing millions of cases of respiratory disease per year. Transportation pollution is not evenly distributed, and a zero-emission system will markedly benefit communities living in and near polluted cities, freight corridors and hubs, and busy ports.
Growing a green economy
Shifting to 100% electric road transportation will catalyze trillions of dollars in new investments. Drive Electric revs ambition, creating an estimated 7-19 million jobs across vehicle manufacturing, charging infrastructure, and local services. By addressing interconnected barriers, our roadmap tackles cost and convenience challenges to create savings for people and businesses.
Steering the course
We've got a strong network of 100+ global partners with a proven track record, and we are ready to scale: Drive Electric partners include NGOs, foundations, and coalitions, and we work closely with governments and businesses around the world.
Meet our partners
"We knew big heavy trucks could go electric, but would they be deployed fast enough to address the climate challenge? Drive Electric partners supported research on solutions and civil society demanded cleaner air and better jobs, leading to the world's first regulation requiring an aggressive transition to zero-emission trucking in California. Now we can take this critical policy global."
"We are on the cusp of an unprecedented market transformation as zero-emission commercial vehicles quickly move to production scale. We need to increase the pace, ambition, and regional coordination to meet our climate and air quality goals. That's why CALSTART and Drive to Zero are proud to partner with the Drive Electric Campaign toward stronger alignment of targets for zero-emission commercial vehicles across industry and governments worldwide."
"Europe, by learning from others like California and China, has become a leader in decarbonization of transportation, thanks to its ambitious regulations. Now it is up to us to share the European experience with the world because the transport sector won't stop damaging the climate until oil-powered vehicles are phased out everywhere. The Drive Electric Campaign is an important step to realizing this target."
"A key achievement over the past year was using the high ambition set by Drive Electric to shape the targets for the "Race To Zero - Breakthroughs" and "RouteZero" initiatives that are driving ambition for leading markets and companies in the run-up to COP26. This type of collective ambition escalation only happens when groups invest in pragmatic collaboration and integration of goals and strategies."
"The Drive Electric Campaign shares Shakti's and our Electric Mobility Initiative vision to accelerate the electrification of all road transportation to achieve complete decarbonization of the sector. A global campaign helps us reach more like-minded funders and partners with whom we can collaborate."
"The accelerated shift to electric vehicles of all types is critical to meet our climate goals. Our
Race-To-Zero
campaign is working closely with the Drive Electric campaign to set
bold 'breakthrough' goals
and align on high ambition with business, investors, governments, and civil society. Working together, we're confident that we can secure a tipping point soon when EVs will increasingly dominate the market, providing massive benefits for the climate."