All News
COP27 events to advance zero-emission transportation
COP27 events to advance zero-emission transportation
The 2022 United Nations Climate Change Conference, or COP27, will be held in Sharm El Sheikh, Egypt from November 6th to 18th. The Conference proceedings center around governmental commitments to meet the Paris Agreement to limit climate change to well below 2, preferably to 1.5 degrees Celsius, compared to pre-industrial levels and other aspects of the climate agenda, including adaptation to climate impacts.  While countries deliberate on their plans for nationally determined contributions to climate action, members of the global climate community gather in parallel to advance climate solutions. 
Transportation currently accounts for almost 20% of global climate pollution, and COP27 presents an opportunity to increase momentum toward a zero-emission transportation future that is aligned with the Paris Agreement. With over 100 implementing partners working around the world, the Drive Electric Campaign network will be bringing expertise and ambition to the forefront of COP27 transportation discussions.
Whether you're joining COP27 online via live stream and social media or in-person, here are some events to keep in mind including events hosted by or featuring speakers from our partners. Event details may be subject to change and we encourage you to visit the linked websites for the latest information. It is important to keep in mind that most side-events (outside the governmental proceedings are not live-streamed).
Drive Electric partners will have an exciting announcement to make toward the end of COP27, the thematic focus of "Solutions Day" on November 17th as the "Accelerating to Zero Coalition (A2Z)" is launched to support a faster global transition to zero-emission vehicles of all kinds. A2Z builds on the positive momentum for ZEVs from COP26. Stay tuned for more news at ZEVdeclaration.org, and opportunities to engage.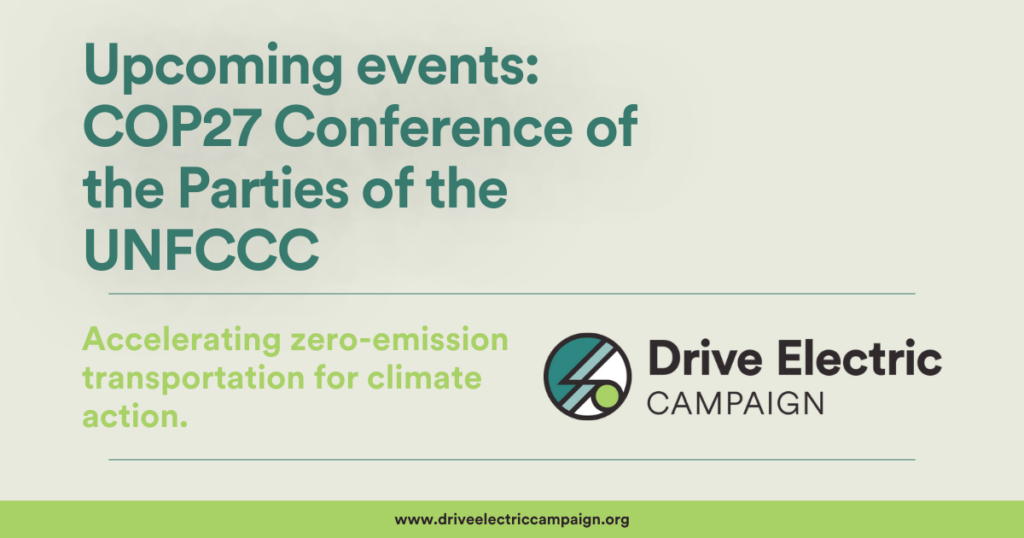 Fuelling Health Harms: The Human Costs of Fossil Fuels
Friday, November 11, 2:00 PM to 3:30 PM (EET), WHO Pavilion
The Global Climate & Health Alliance will host this event, which will be moderated by Jane Burston, Executive Director of the Clean Air Fund (Drive Electric partner). More details to come on the WHO Pavilion events page. 
How can international initiatives solve the main bottlenecks of road freight electrification? 
Monday, November 14, 1:30-2:30 PM (EET), We Mean Business Coalition Pavilion
This session aims to provide a good overview of the current status versus the mid and long-term MHDV electrification targets; the main asks and bottlenecks concerning demand, supply and policy to close the gap; the actions and collaborations of different initiatives which aim to speed up MHDV electrification.
Organized by Smart Freight Centre, partner of the Drive Electric Campaign.
The Zero Emissions-MHDV ecosystem: Canadian and global successes and next steps 
Tuesday, November 15, 9:00-10:00 AM (EET), Canadian Pavilion
Transport Canada will highlight the leading edge regulations and programs that make the country a global zero-emission transport leader. The benefits of a just transition in transportation – lessons learned from climate leaders. Organizers include Drive Electric partner ZEV Community (Under2 Coalition) and the Government of Québec.
E-mobility for All
Tuesday, November 15, 1:00-2:00 PM (EET), We Mean Business Coalition Pavilion
The global e-mobility transition is underway. New technologies and service models are driving the adoption of EVs at an accelerated rate around the world. In Africa, EVs tied to renewable mini-grids are multiplying. In the Caribbean, e-buses are delivering cleaner public transport at lower costs. The Shoonya campaign has super charged the adoption of EVs for ride-hailing and urban delivery in India. This global panel of experts will explain how prioritising modes of transport that move most of humanity is one of the most tangible solutions to scale e-mobility globally to achieve our collective climate goals.
Hosted by Drive Electric partner, RMI, speakers include Clay Stranger, Managing Director, India Program, RMI; Ting Li, Managing Director, China Program, RMI; Heather Thompson, CEO of the Institute for Transportation and Development Policy (ITDP). 
Delivering on transport decarbonization: Companies, cities, regions and countries working together
Tuesday, November 15, 2:30-6:30 PM (EET), We Mean Business Coalition Pavilion
This event, a partnership between the Transport Leads of the UN Marrakech Partnership and the We Mean Business Coalition (WMBC), will highlight the progress made to date on ZE-MHDV and the business action and policies needed to accelerate the decarbonization of on-road freight with deep dives on:
1.) Zero Emission Urban Freight: highlight policies that drive decarbonization in urban freight: ZEZs (Zero Emission Zones)and MDHD zero-emission trucks. Identify key steps for action and hurdles for countries, cities, regions and companies in implementing these policies
2.) MHDV Charging: explore the financing needed to scale up charging infrastructure and the balance between private and public investment
3.) Circularity: raise awareness of the importance of material availability and resilient supply chains and bridge the gap between private sector and policymakers
SLOCAT Transport Event
Tuesday, November 15, 9:00-12:00 PM (EET), Multilevel Action Pavilion – Learn more here
At COP27 Sharm el Sheikh, governments at all levels, multilateral organisations, international financial institutions and national development banks must act to meaningfully scale up  walking, cycling and public transport systems, particularly in the Global South. The SLOCAT Partnership calls on these stakeholders to enable walking, cycling and public transport solutions as core elements of their climate action for transport by specific, measurable, attainable, relevant and time-based action in six areas. 
Getting it done: Public-private actions for decarbonizing road transport
Wednesday, November 16, 5:30-6:30 PM (EET) Livestream online here
With 33% of city GHG emissions resulting from road transport, public and private leaders must urgently align business and policy actions to deliver the promises made at COP26.To meet decarbonization targets, ambitious mobility policy aimed at emission and air pollution reduction must be met with industry support and investment.Join this session to hear how cities and businesses are working together to provide affordable, safe and efficient zero emission mobility.
ClimateWorks' Helen Mountford will moderate this virtual panel discussion. Hosted by the Global New Mobility Coalition at the World Economic Forum.
The future of international road freight: one year on 
Thursday, November 17, 11:30-12:30 PM (EET), UK Pavilion
The United Kingdom will lead an event examining government support for zero-emission heavy duty vehicles, the co-benefits of the zero-emission transition, and enhancing diversity in the road freight sector. The UK's Department of Transport is organizing.
Accelerating the Global Transition to Zero-emission Vehicles
Thursday, November 17, 3:00 to 4:30 PM (EET), Global Action Rooms in the Blue Zone
Supporting the sustainable transport objectives of Solutions Day, this high-level event – to be held in front of an audience of over 200 as well as the online community – will look at progress made since COP26 in the global transition to Zero Emission Vehicles (ZEVs). Building on this momentum, and responding to a call to action for greater ambition and support for a global transition in the road transport sector, this session will see the launch of a new leadership group – the Accelerating to Zero (A2Z) Coalition, supported in part by the Drive Electric Campaign – and showcase new action from countries, sub-nationals, and non-state actors to take forward commitments towards 1.5C. This event will include a keynote speech, followed by Ministerial level panel discussions on implementation progress and the importance of ensuring a truly global transition to zero-emission vehicles, where no country or community is left behind. Subsequent panel events will focus on the global transition to zero-emission vehicles in 2023 and beyond, including international support and how the Breakthrough Agenda outlines key actions for decarbonizing transportation. Panels will include representatives from governments, the private sector, and Multilateral Development Banks.
Showcasing India's leadership on e-mobility
Thursday, November 17, 3:00-4:00 PM (EET), India Pavilion
The World Economic Forum, in partnership with Government of India's National Institution for Transforming India (NITI) Aayog, will bring together business leaders and policy-makers to discuss India's leadership on electrification of two- and three-wheeled vehicles and how clean and shared mobility can support both climate and industrialization in India and other emerging markets.
Zero-emission Trucks Are Here! Financing the Transition
Thursday, November 17, 6:00-7:00 PM (EET), We Mean Business Coalition Pavilion
This side event will share the views of leading public and private actors in this transition, while highlighting the opportunities to overcome this finance gap to accelerate the transition to ZE trucks, building on the existing readiness and commitments and the momentum the Global MoU for ZE-MHDV has provided. Trucks represent a disproportionate share of emissions despite being a relatively small share of on-road fleets. Furthermore zero-emission (ZE) technology for trucks is ready for most applications with total cost of ownership parity with diesel being within reach between 2024 and early 2030s. Financing the upfront cost and the charging infrastructure are now considered to be a main challenge to a swift transition to ZE trucks. Governments, (institutional) investors and business jointly can bolster the market. Clarity on ambition, achieving scale and impact and de-risking are key components of the needed joint efforts. This event is part of a series of events taking place at COP27 to highlight ambition and action on the road to zero-emission transport.
Organized by CALSTART and the Global Commercial Vehicle Drive to Zero, a Drive Electric Campaign partner.
Published November 3, 2022