All News
Drivers Say "Goodbye Oil" with the Electric Road to COP26
Drivers Say "Goodbye Oil" with the Electric Road to COP26
Electric vehicle (EV) drivers are known to be a passionate crowd and influential in helping other drivers choose an electric car when deciding on a new vehicle. So how did EV drivers connect with COP26? An electric car caravan, of course.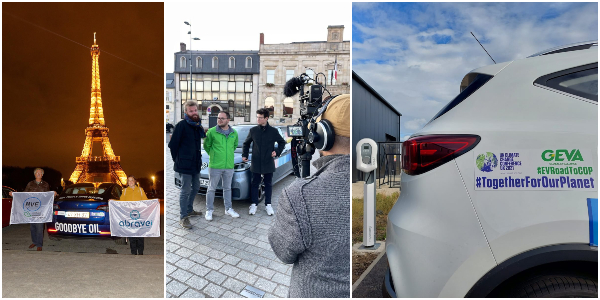 EV drivers from across Europe showed up at COP26 to convey to attendees that a shift to electric transport is essential to reducing greenhouse gas emissions, improving local air quality, avoiding respiratory diseases, and fighting global climate change. The message to negotiators, governments, and businesses from EV drivers is clear: governments should commit to 100 percent zero-emission new light duty sales by 2035.
Alongside the Electric Vehicle Associations of Scotland and England, the Global EV Alliance (GEVA) coordinated the "Electric Road to COP" across Europe that met up in Glasgow for the United Nations Framework Convention on Climate Change meetings (or COP26). These yearly international meetings have traditionally downplayed transportation's contribution to greenhouse gas emissions, remaining silent on this source of 23% of total energy-related CO2 emissions.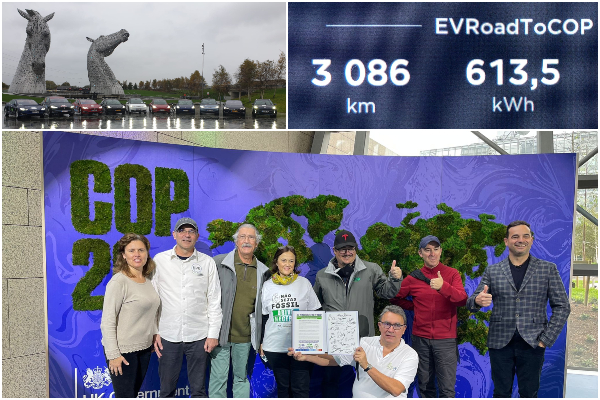 This year, COP26 emphasized the need to move people and goods without emissions: on Transportation Day, GEVA was one of more than 100 signatories to the Glasgow Declaration on Zero-Emission Cars and Vans. A partner of the Drive Electric Campaign, GEVA is an international network of national electric drivers' associations. The Alliance facilitates global collaboration on best practices, policies, education, and other EV related initiatives.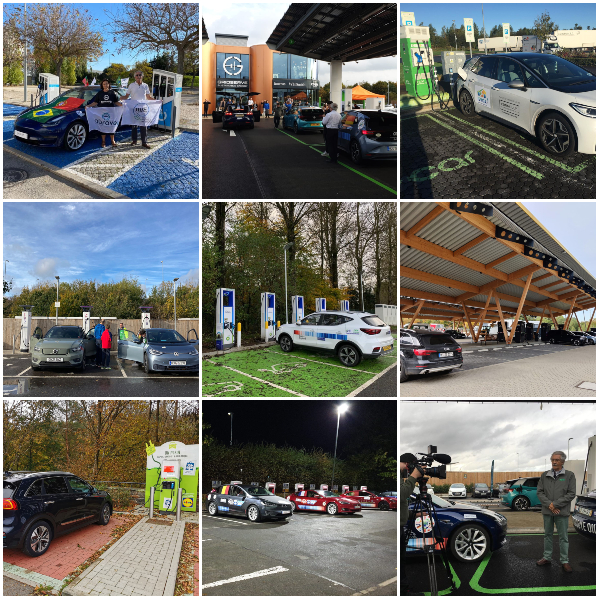 For EV drivers, it doesn't take much to imagine a world without polluting tailpipes—with 100% electric transportation of all modes, on all roads. Along the #EVRoadtoCOP, drivers shared their message with decorated vehicles, social media videos, news interviews, and stops at major landmarks and electric vehicle charging stations.
LIVE! Trailing @ThePlanetMark to @ArnoldClark Glasgow #EVRoadToCOP Final Leg! Travelers from all over Europe uniting after visiting @GRIDSERVE_HQ @myenergiuk @BritishvoltUK and many others over the past days!@Elektro_Robin at the wheel!@GEVAlliance @EVA_Scotland @EVAEOfficial pic.twitter.com/hXJDeabZlp

— Felix Arthur (@electricfelix) October 31, 2021
Along the route, EV drivers connected with and cheered on more modes of zero-emission transport, including aircraft, e-buses, e-bikes, and others. By the end of Transportation Day, the COP26 Glasgow Declaration was updated to reflect that: "We recognise that alongside the shift to zero emission vehicles, a sustainable future for road transport will require wider system transformation, including support for active travel, public and shared transport."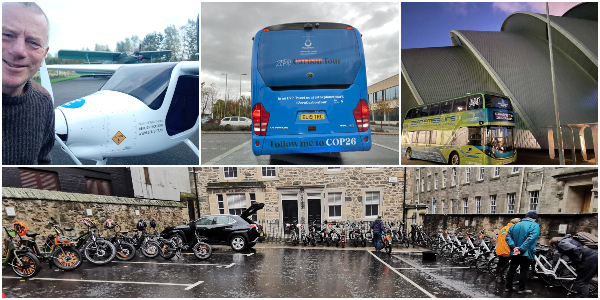 When it comes to powering cars, GEVA members put it simply: "Goodbye Oil." The end of the fossil fuel-powered, polluting tailpipe is near, and people-powered coalitions such as GEVA are increasing public awareness and support for the uptake of zero-emission transportation, creating positive pressure for business and government action here at COP26 and beyond.
For more scenes from the road and to hear from EV Drivers and participating Drivers Associations, check out #EVRoadtoCOP on Twitter, the road trip report from EVA Scotland and read updates from EVA England.
Published November 12, 2021