All News
Why Electric Transportation and Compact Cities are the Perfect Pairing to Meet the Paris Agreement
Why Electric Transportation and Compact Cities are the Perfect Pairing to Meet the Paris Agreement
Rapid vehicle electrification is necessary to decarbonize the transport sector. So is urban planning to build compact, mixed-use cities that prioritize walking, bicycling, and public transit.
These two strategies don't compete: rather, they support each other to reach the greatest possible reduction in emissions, consistent with avoiding the worst effects of climate change – while also saving USD $5 trillion per year by 2050.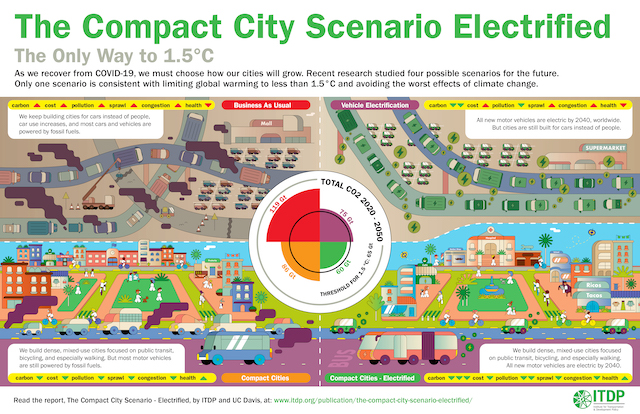 These are the findings of a new study by the Institute for Transportation and Development Policy and the Institute of Transportation Studies at the University of California, Davis (both are partners of Drive Electric). In order to meet the Paris Agreement to keep global warming below 1.5°C by the end of the century, we need to transform how people move in two ways. On one hand, we must achieve the COP26 Glasgow Declaration goal and make all new passenger vehicles zero-emission by 2035 in leading markets, and by 2040 globally. On the other hand, we must also transition to compact cities where walking, cycling, and riding public transit is easier than driving a car. We need compact cities — electrified. Neither strategy alone will be enough: we need both.
Electrification and compact cities synergize in three key ways:
1. Electrification and compact cities are both necessary
The need for urban transportation is set to double over the next 30 years, the study found, with annual travel activity expected to grow by as much as 29 trillion passenger-kilometers traveled (pkt). Meeting this need in a way that provides affordable, accessible transportation consistent with mitigating climate change will require an all-tools-on-deck approach that maximizes the share of clean, renewably-powered electric vehicles and prioritizes compact city development that provides increased access to transit, biking and walking. 
Electric cars, buses, and bicycles; accessible charging stations; ubiquitous transit, bicycle, and pedestrian infrastructure; and compact transit-oriented development: all of these are vital. It isn't a question of one or the other – it's a question of whether or not we can achieve all of them before it's too late. Pursuing all of these strategies together could meet our climate goals, but our study found that neither electrification alone nor compact cities alone could do it.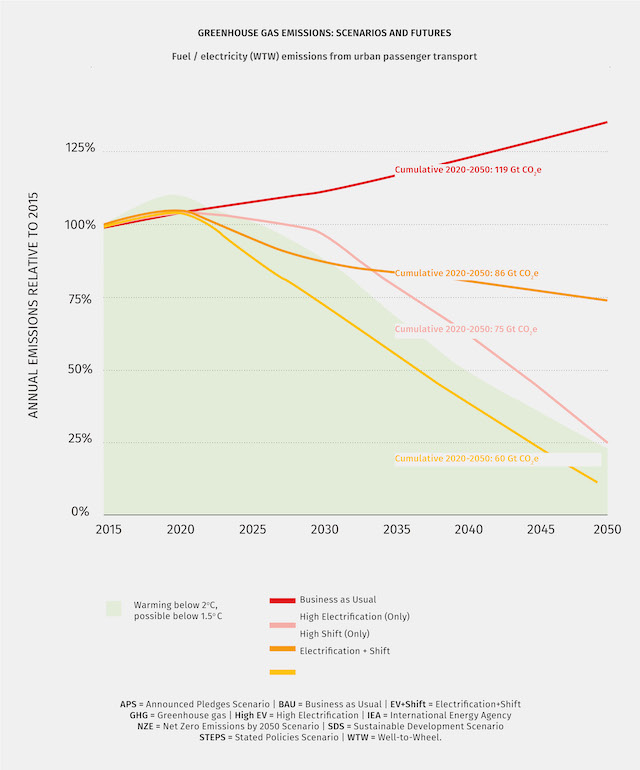 Both strategies will be needed all around the world. It isn't a question of high-income countries transitioning to electric vehicles while low-income ones build mass transit: to meet the Paris Agreement, we need bus lanes in Los Angeles and electric cars in Nairobi. Nor is it a question of investing in one after the other – we need rapid progress on both, starting now.
2. Compact cities contribute to a clean energy future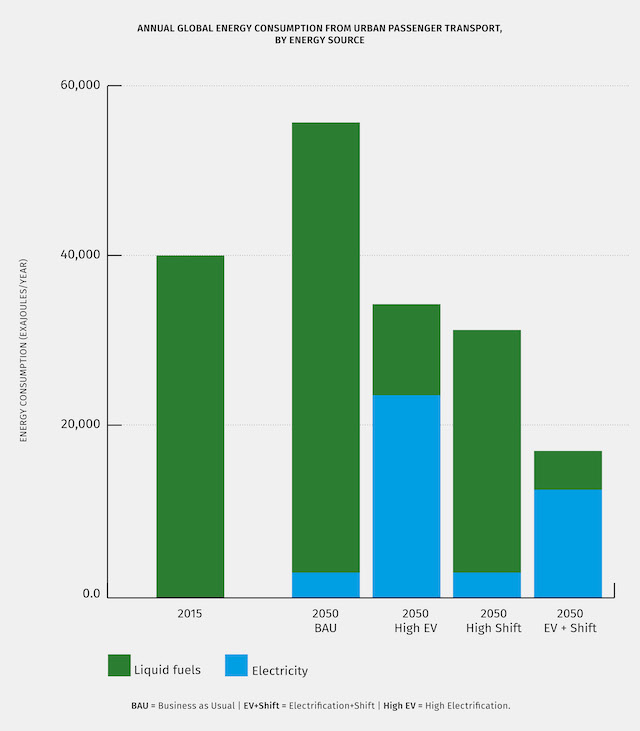 Compact cities built for walking, cycling, and public transit can decrease projected energy demand needed for vehicle movement by as much as 40%. By combining EVs and compact cities, the savings can be even greater, making it much easier for us to decommission highly-polluting coal plants and make a complete switch to renewable energy. The greatest impacts are in the synergy between electrification and compact cities, rather than in one strategy or the other.
3. Compact cities reduce the cost of mobility for all
By redesigning compact cities to prioritize transit, bicycling, and especially walking, we can provide the same levels of mobility with fewer and less expensive vehicles. Electric cars are already cheaper to fuel and maintain, and will soon be cheaper to buy, reducing the costs of travel for anyone who needs one. With compact cities, we'll only need about 1.1 billion electric vehicles worldwide in 2050, compared to 1.6 billion under a business-as-usual scenario. Not only will this reduce congestion, but by decreasing the need for expensive highways, parking, and maintenance, it will save the world's economy five trillion dollars per year by 2050 — enough to build tens of thousands of new hospitals every year.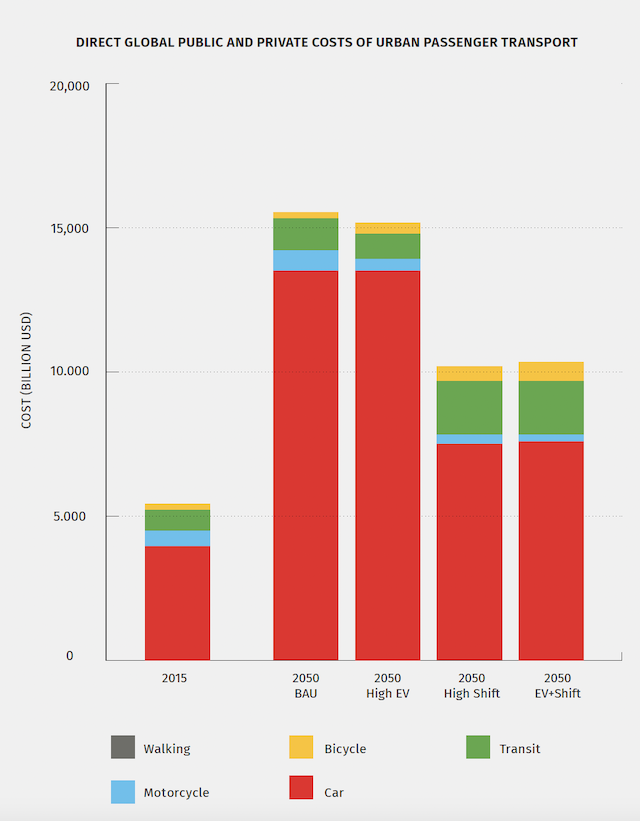 We can build compact cities — electrified
In order to achieve this scenario and reduce transport emissions to a point consistent with the Paris Agreement, we'll need strong action from governments at all levels — from the international to the local. 
A few key strategies emphasize the synergy between electric vehicles and compact cities:
– Low- or Zero-Emission Zones in cities, especially in city centers, disincentivize internal-combustion car travel and simultaneously incentivize both electric vehicles and other modes.
– Shifting to large electric bus fleets will be necessary to achieve a low-emissions future.
– Support and funding for Electric bicycles and scooters and infrastructure, both private and shared, will be a key component of future mobility. Their speed makes them capable of easily completing trips up to 5km, and their low cost makes them highly practical as a replacement for cars — especially in cities that develop the necessary infrastructure of protected lanes. 
– Policies to support rapid electrification including vehicle standards for automakers, infrastructure programs, incentives, fee-rebate structures, and other strategies.
– Dedication of transport funding to public transit, walking, and cycling in order to build high-quality citywide networks of bus lanes, protected bicycle lanes, and footpaths. 
– Urban land-use reform to incentivize compact development clustered on rapid transit stations.
Building compact, electrified transport systems in time to meet the Paris Agreement is a very ambitious goal, but it is feasible. We have the technology and the resources. We only need political will.
By pairing compact cities and transportation electrification, we can achieve our climate goals with a host of co-benefits like cost savings, air quality improvements, and better quality of life. Download the full report for more details and key policy changes that will accelerate these powerful changes.
Published January 20, 2022