All News
Charging ahead: Drive Electric Campaign global progress
Charging ahead: Drive Electric Campaign global progress
Mid-way into 2022, it is clear that we need bolder climate action to decarbonize the global economy. Fortunately, electrifying transportation is accelerating and is a key contributor to meeting our global climate goals, leading to cleaner air for healthier communities, better jobs, and a more resilient future.
This summary report offers a global look at how Drive Electric partners are accelerating the transition to clean, electric vehicles of all kinds. In the European Union, a policy package called "Fit for 55" sets a 2035 phase-out date for polluting combustion engines in passenger cars and vans and the U.S. passed the Inflation Reduction Act with billions of dollars for EV and battery manufacturing and sales incentives – not only will this propel action across those regions, but it's likely to reshape global manufacturing priorities. Meanwhile, coalitions of advocates and experts across a growing number of U.S. states are advancing policies that cut dirty diesel pollution by setting up the transition to clean, electric trucks – despite rising opposition by industry laggards. In China, electric buses, two- and three-wheeler sales data shows that, with the right policies, the market can be tipped quickly toward clean transportation, which could shift the landscape for the most popular modes of daily transportation across Southeast Asia and many emerging markets. Local action ramps up too, with Delhi, India setting ambitious electric truck targets that will ameliorate commercial vehicle air pollution, and cities across Latin America making headway on electric buses with the support of Drive Electric partners.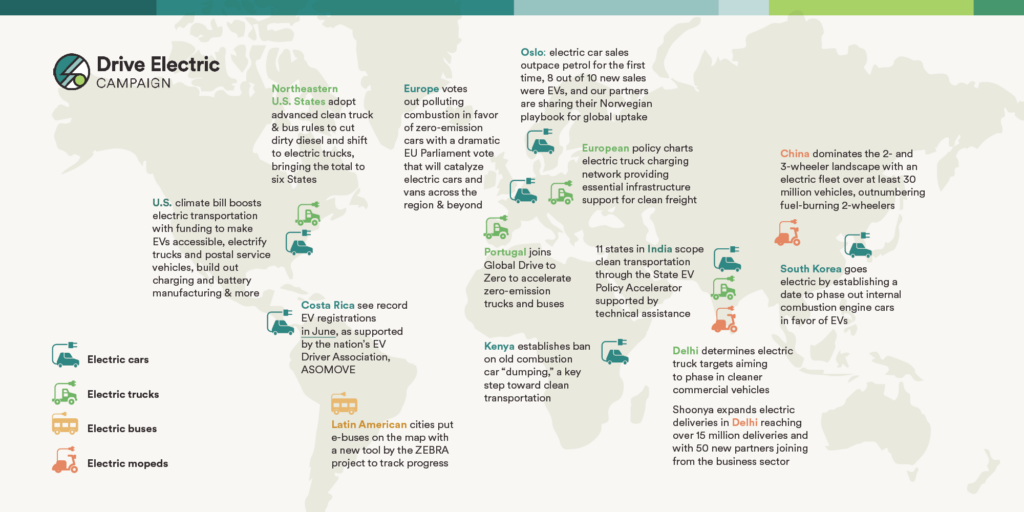 These exciting examples are just a few of the market-shifting progress that our partners make possible.
Download the report today, share your thoughts with us on social media, and learn how to get involved with the work of our partners.
Published September 19, 2022
Download the report