All News
Electric transportation powers forward at COP27
Electric transportation powers forward at COP27
Here are 4 big ways that electric transportation advanced at the global climate conference, COP27, and what needs to happen next.
This year's 27th United Nations Climate Change Conference of Parties (COP27) saw zero-emission transportation racing ahead, thanks to the vision and coordination of many of our Drive Electric Campaign partners. 
Moving people and goods is a major source of pollution and oil dependency. From daily commutes to local deliveries and long-haul freight, road transportation accounts for roughly 20% of global energy-related greenhouse gas emissions and more than half of global oil demand. That's why it's critical to shift the sector to technologies and systems that end the polluting tailpipe and set us on track to meet our climate goals. The annual COP is a global U.N. meeting to secure implementation of commitments under the Paris Agreement, which aims "to limit global warming to well below 2, preferably to 1.5 degrees Celsius, compared to pre-industrial levels." 
At COP, Drive Electric partners worked to boost ambition and joint action in Sharm-El-Sheikh, Egypt where the summit took place this year.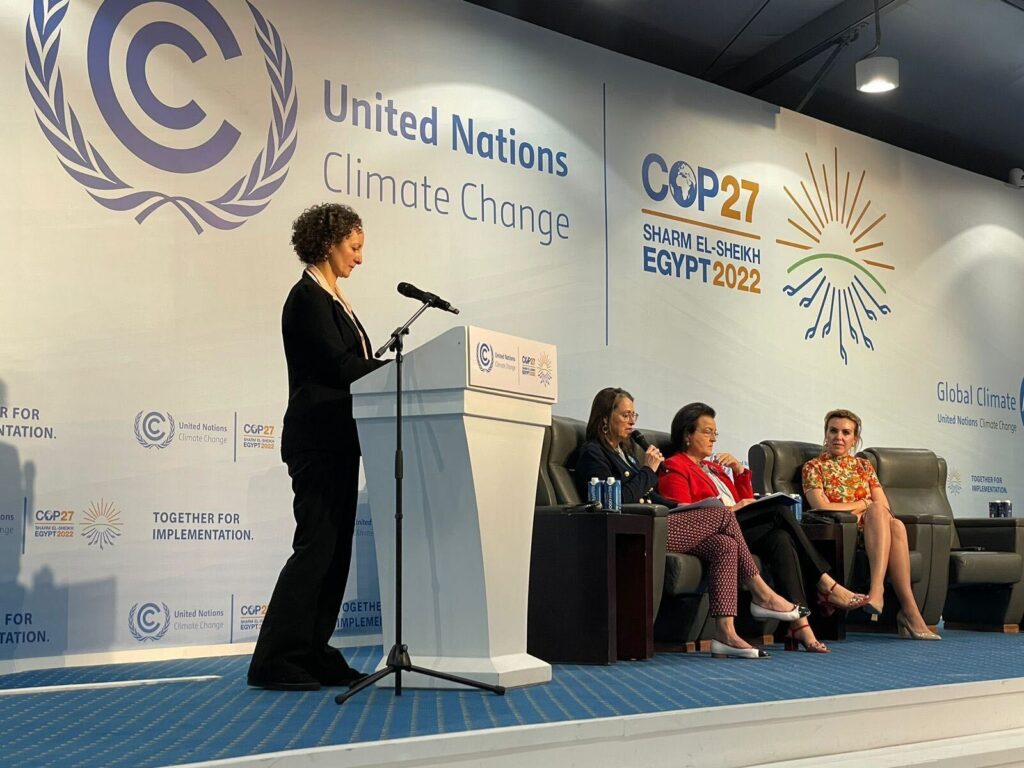 4 big ways that electric transportation advanced at COP27
At COP27, countries and companies made zero-emission transportation commitments building on the progress from COP26. Both France and Spain – the second largest vehicle producer in Europe – signed the Zero-Emission Vehicle Declaration which supports shifting to 100% zero-emission light vehicle and van sales by 2035 at the latest in the leading markets, and 2040 for the rest of the world. Private sector leaders like vehicle companies and fleet owners also joined, including those of Egyptian origin, adding their signatures to the more than 100 parties that signed the Declaration at COP26. 
The ZEV Declaration is now supported by a new international alliance: the Accelerating to Zero Coalition (A2Z Coalition). Launched on Solutions Day at COP27, the A2Z Coalition aims to hasten progress with leadership support from the UK government, the High-Level Climate Champions, the International Council for Clean Transportation (ICCT), The Climate Group, and the Drive Electric Campaign. A2Z builds on the foundational work initiated at COP26, and was celebrated at COP27 with government and private-sector leaders alike. As part of the launch, Bloomberg NEF developed a "ZEV Factbook" covering the latest updates on market data and progress. To help make this shift truly global, A2Z is supporting a "Rapid Response Facility" that will connect emerging markets and developing economies with guidance and technical assistance on policies and commitments to zero-emission transportation, working together with the Zero-Emission Vehicle Transition Council.  
When it comes to climate and air pollution, medium and heavy duty trucks have an outsized footprint, and so far the shift to zero-emission has been slower than cars. That's why it's monumental that the United States, Ukraine, and Ireland, joined 23 other nations in committing to 100% zero-emission new truck sales by 2040, through the Global Commercial Drive to Zero Memorandum of Understanding (MOU), coordinated by Drive Electric partner CALSTART.
At COP27, the Egyptian Presidency also launched the LOTUS initiative for urban transport in developing countries that includes support for investment in infrastructure for electric vehicles with an emphasis on logistics transport and electric buses. Drive Electric partners involved include SLOCAT (which facilitated the process), along with ITDP, WRI, and the Smart Freight Centre.
Are we there yet?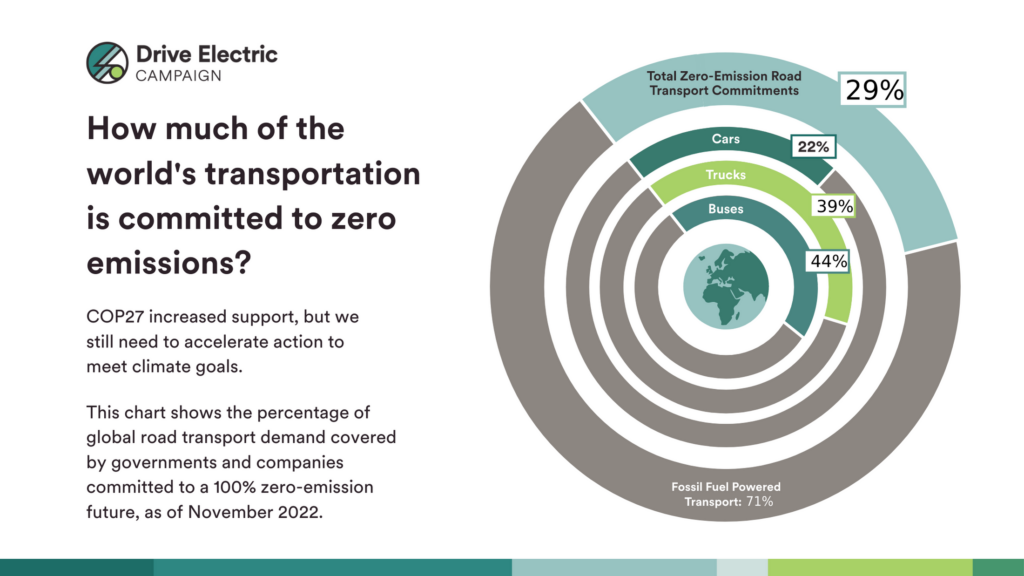 Together, the latest announcements help move the needle on commitments and actions to decarbonize transportation. As the chart above shows, governments and businesses representing 29.4% of global road transportation demand are now committed to zero-emission vehicles, including 22% of cars, 44% of buses, and 39% of trucks. These forecasts are based on the total energy demand from global road transportation, compared to a 2015 baseline. The commitments at COP27 and throughout this year contribute to a jump of 6.4% for all road transportation –  a significant increase since COP26, with some of the biggest growth coming from new commitments to zero-emissions trucks. 
Commitments can be a key first step toward policy development and market transformation, but for these to be meaningful we need to ensure such commitments are backed by binding policies and investments that support implementation. 
Fortunately, smart government policies to ensure we stay on the critical path are spreading quickly. For example, in the U.S., Drive Electric partners were critical in supporting regulations that ensure an accelerated shift to electric car and truck sales at the state-level, and billions of dollars of new federal investment in consumer incentives, infrastructure, and manufacturing from the recently passed Inflation Reduction Act.  Also this year, with support from Drive Electric partners European Climate Foundation, T&E, ICCT,, and others, we are likely to see the birthplace of the combustion engine phase out polluting vehicles in favor of zero-emission cars and vans as Europe finalizes the "Fit for 55" emissions reduction package.
Transportation is making tremendous progress toward a climate-secure future. But to meet the Paris Agreement targets, we need everyone to be on the critical path toward 100% of new sales of zero-emission buses and 2-and 3-wheelers by 2030, cars by 2035, and trucks no later than 2040. Current global commitments to these goals by government and business, as shown above, still account for less than one third of global demand. In short: we still have a ways to go.
And as electric vehicle adoption accelerates in leading markets like Europe, the United States, and China, philanthropy and civil society organizations can support partners in emerging markets to ensure this transition moves beyond the core markets for current vehicle production and consumption. Last week during COP27, Drive Electric announced the new LEAP Fund of philanthropic investment to support partners working in emerging economies. Ranging from electric truck policies in Chile to scoping zero-emission 3-wheelers in Burundi and electric buses in South Africa, these inspiring projects make headway toward "leapfrogging" over polluting transportation into clean, zero-emission vehicles.
This is an exciting and impactful time for aligning transportation with climate goals. There is more to be done: from ambitious policies to investment roadmaps, infrastructure deployment, to ensuring that communities impacted by the polluting status quo are engaged in and benefitting from a clean, zero-emission future. Thank you to all our Drive Electric partners who are supporting and accelerating these advances at COP27 and around the world.
Published November 29, 2022